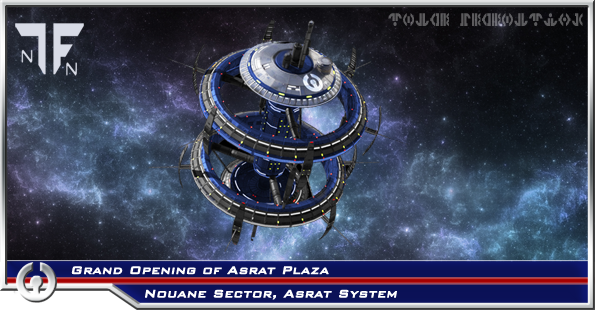 Asrat Plaza Grand Opening Ceremony
A gotal reporter appears on your holopad as the Trade Federation's anthem can be heard in the background.
"Good morning, we welcome you to a brief statement from the Trade Federation. We go now to a live feed of the ceremony taking place shortly in the Asrat system."
Year 22 Day 264 | Asrat System, Nouane Sector | Economy
---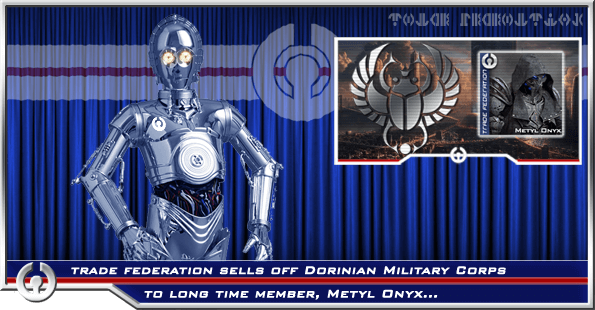 Dorinian Military Corps Changing Hands
Since its creation, The Dorinian Military Corps has always been in Trade Federation hands as its sole droid producer. After many years of building up our Droid Army, the Trade Federation Cabinet has come to a decision to release the faction to the private sector and sell to long time member and entrepreneur Metyl Onyx.
Year 20, Day 352 | Zeemacht Cluster, Taanab System | Economy
---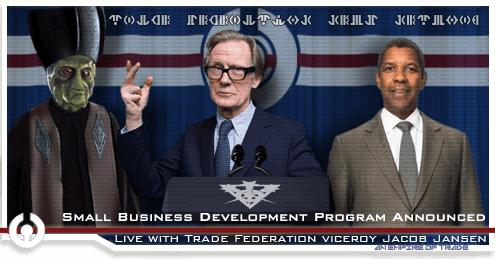 Small Business Development Program Announced
In a short press conference held via HoloNet, Trade Federation Viceroy Jacob Jansen, High Ambassador Tovakinpi Toshikhan, and Minister of Production Salamku Derov, announced the formation of a new initiative for supporting small businesses operating in Federation Space, the Trade Federation Small Business Development Program.
The Small Business Development Program is designed to offer support to groups looking to establish a secure, more permanent location for their groundside business operations. Support comes from a variety of avenues, including help in finding a place to build brick-and-mortar facilities, startup loans, and preferred access to raw materials for production.
Year 17, Day 243 | Nouane Sector, Obroa System, onboard the Lucrehulk 3210 Battleship TFP Inspiration | Economy
---