Reconstruction of Endor's Forest Moon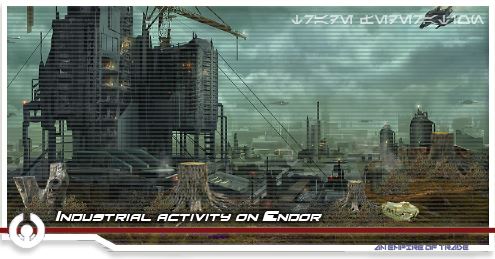 TFNN – Endor System, Moddell Sector
The lush, verdant forests from which the Forest Moon got its name have become famous galaxy wide. Home to both the Yuzzum and the Ewok peoples, the breathtaking majesty of the moon was chosen years before to host the capital of the Avance Coalition as if the richness and fertility of the jungles and the residents who prospered alongside and not by or in spite of the untamed expanses could say more about the former government than could any palace or diplomat.
For years it silently circled the planet Endor, broadcasting its bold, unchallenged growth and glory on behalf of the whole Coalition. Visitors today, however, find a much different story.
If one were to travel to the famed Forest Moon today, you'd find it a forest in name only. The growth of the former Avance Coalition brought with it expansion projects to the capital, and with projections of growth in the upswing before the Recession even more land was cleared and slabbed to prepare for the building and infrastructure to support the promised prosperity.
Many resorts, seeking to allow more of the public to experience the splendors sought to expand their grounds and locations around the moon as well. But it was not to be. The Galactic Recession found the moon cleared and mostly slabbed over, with many cities and settlements in various stages of completion.
The many public works projects aimed to stimulate the economy focused on the planet Endor, and made use of the open space on the moon for material storage and recycling foundries. The condition of the moon's surface declined rapidly.
By the time the problem was brought to the attention of the former Avance government who had been scrambling to address the myriad effects of the Recession, internal security disputes, and assisting allies in combating terrorism, the problem's magnitude had surpassed the funds and energy needed to combat it effectively.
Paul Luz was approved by the Hall of Houses to assemble a team of Avance Rangers and scholars to study the effects of rapid urbanization on planets and estimate the scope and trajectory of currents trends as the majority of programs aimed at ending the recession hinged on public works and infrastructure expansion. His efforts, however, ran parallel with the plans to merge the Coalition with her closest ally, the Trade Federation. Luz was only able to assemble his team and start planning their methods before the Hall of Houses that had approved and sponsored his efforts had ceased to be, dismantled and assumed into the new regional government of the Federation.
Year 16, Day 93 | Moddell Sector, Endor System, onboard the Lucrehulk 3210 Battleship TFL The Aegis of Atei | Economy