Surprise Resignation of the Viceroy
Tanaab, Zeemacht Cluster
Y24, D287
At a press conference today, former Viceroy Salamku Derov confirmed rumors that had been circulating since he stepped down from his viceroyal duties on day 286 that he would not be returning to his role as leader of the galaxy's largest neutral government. Derov first ascended to viceroyalty in Year 21 before resigning in Year 22 due to health issues. Once he was cleared for public service, Derov resumed his duties on Y23 D320, relieving former Viceroy Jensen who had graciously stepped in to offer his steady hand while Derov recovered. Federation citizens were shocked when they learned on Day that Viceroy Derov had stepped back from his duties a second time, but had hoped that this, too, would only be a temporary leave of absence. But that was not to be.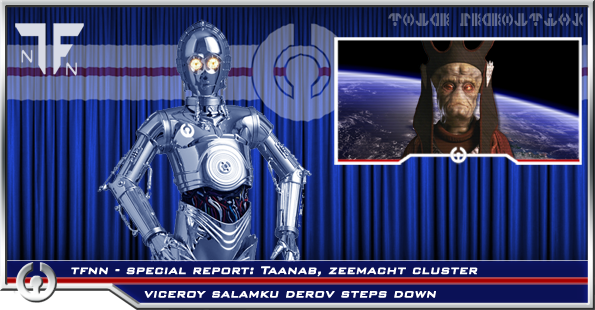 "Let me first say that I apologize for any shock or disturbance the abruptness of my departure may have caused." Said Derov, adding, "I appreciate all the concern and the support of the Federation citizens and our wider galactic community that I received since I left the palace. I am fortunate to report that my health was not the cause of my resignation nor of this difficult decision. I guess the best way to explain my reasons for stepping down is to say that they were spiritual in nature"
Derov went on to explain that his experiences battling for his life had given him much to reflect upon. He had hoped that returning to lead the Federation would restore the sense of purpose he found himself struggling to find, but he still found something lacking.
"Serving as Viceroy of this great Federation was the utmost honor of my life." He noted. "The citizens of the Federation deserve a leader who feels that this kind of service is their life's calling. After a lot of reflection, I discovered that I couldn't say that anymore. After discussion with viceroy Jansen, we agreed that he would step in while I did my soul searching out of the public eye. Originally, we both had hoped that this leave would be temporary, as I know many of you did as well."
The former viceroy said that in the time between his resignation and this announcement he had spent time serving his fellow sentients in other ways, including volunteering his time as a translator for Federation relief programs on nearby Serroco, and building homes for refugees resettling on Phateem as part of a Federation program he supported while viceroy to redevelop the planet's economy.
"I've never felt more alive or at home than I did rolling up my sleeves and helping to repair abandoned neighborhoods, build new homes and dwellings, and working alongside the wonderful public servants with Federation Refugee Services to welcome some of the newest residents of the Trade Federation. I know it may sound crazy to some, but I feel that this is how I'm supposed to be living into my purpose of serving the Federation. I want to be hands-on in building up the new generations of Federation leaders, workers, and dreamers. I really feel like I have found myself in this work, and I want to live out the rest of my days building up the Federation in this way instead of from Forsetti."
Year 24 Day 287 | | Royal